Click the image to zoom
e-Cafe Racer

SCR-1200 Electric Motorbike

$undefined

Introducing the SCR-1200 Cafe Racer, a captivating electric motorbike that seamlessly blends the nostalgic charm of a retro cafe racer style with state-of-the-art electric technology. Featuring smooth lines and vintage-inspired accents, this exceptional vehicle epitomizes the ideal fusion of timeless aesthetics and contemporary performance.
36 Month Warranty

30 Day Returns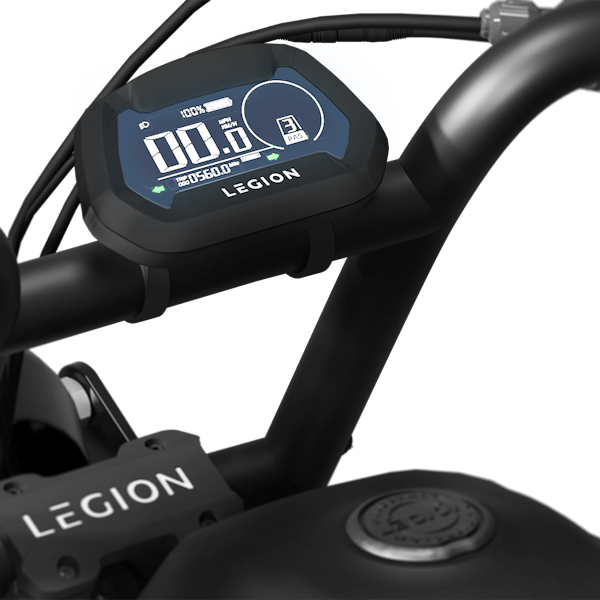 Intelligent LCD Display
The e-Cafe Racer LCD display is the ultimate control hub for your Legion motorbike. Display features include adjustable backlight, battery %, odometer, speed, assist level, password feature, USB charge port and more. Engineered to withstand the elements, the LCD display is equipped with IP65 level waterproofing and features a USB charge port. Crafted from a robust ABS/PC blend, the display shell ensures long-lasting durability, while the super strong tempered glass screen provides added protection.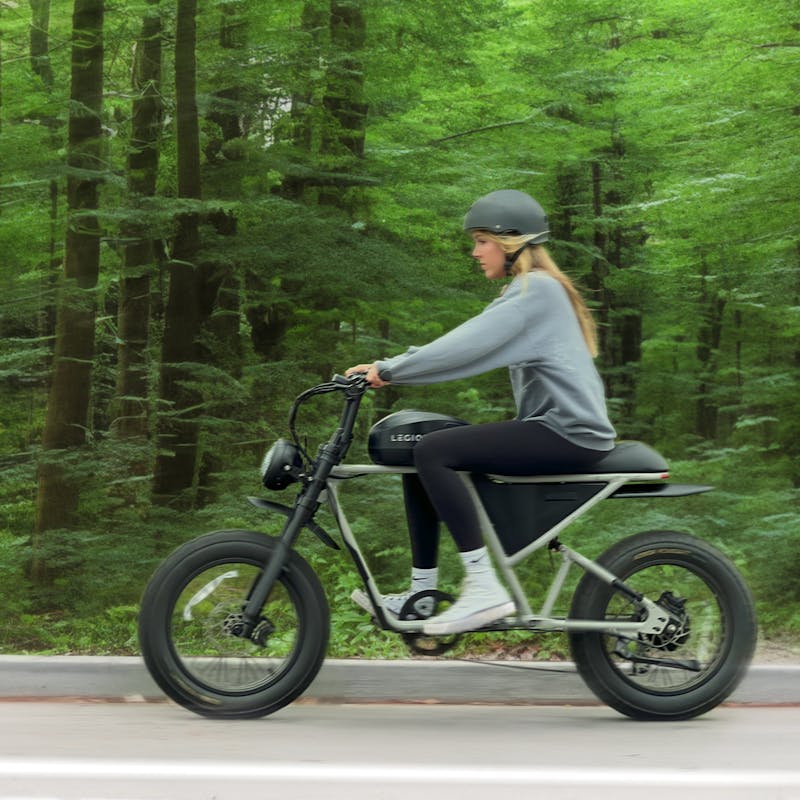 Elevated Design & Premium Comfort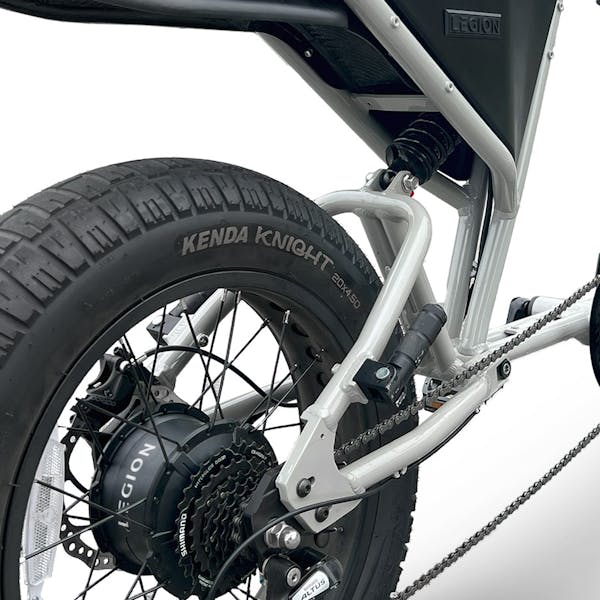 The SCR-1200 electric bike motor is designed to revolutionize your riding experience. Say goodbye to sluggish climbs and slow acceleration, as our high torque motor provides instant power for sustained climbing and acceleration. With a power output of up to 1200 watts, you'll have all the strength you need at your fingertips.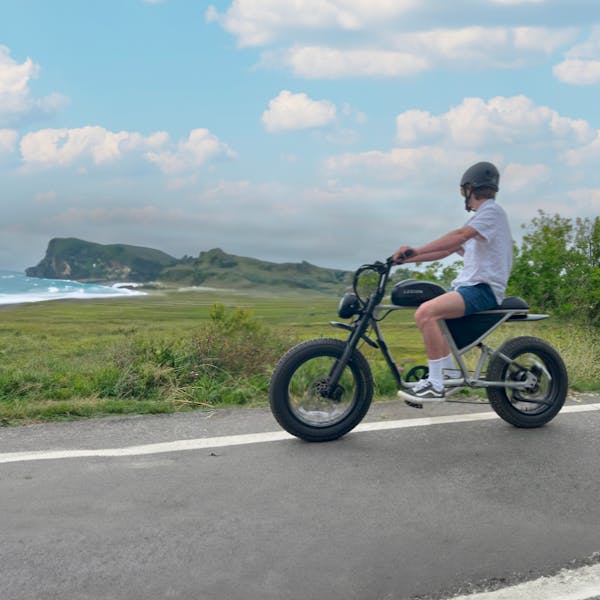 Features
On/off-road Capability
The SCR-1200 electric motorbike is a versatile powerhouse designed to conquer both on-road and off-road terrains with ease. Equipped with front and rear suspension, 6-speed Shimano gears, and 20" x 4.5" all-terrain tires, it delivers unparalleled stability, control, and traction, ensuring an exhilarating and smooth ride regardless of the environment.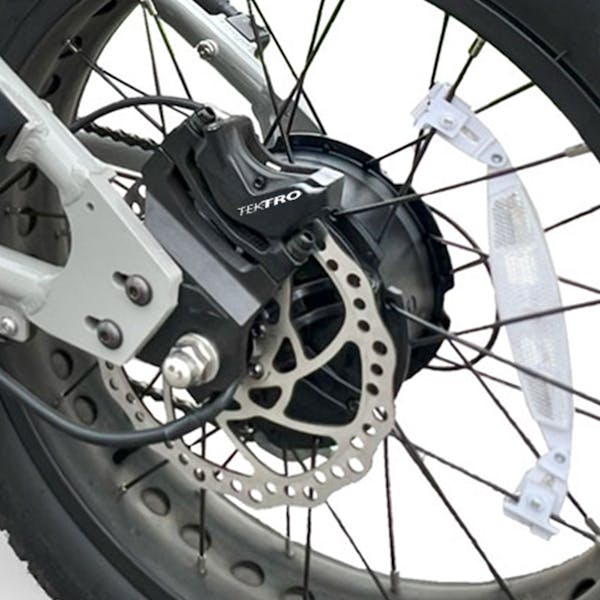 Features
Braking
The SCR-1200 electric motorbike showcases an advanced braking system, incorporating Tektro 4-piston brakes at the front and rear, coupled with a power cutoff feature that enhances safety by swiftly halting the motor's output during braking maneuvers.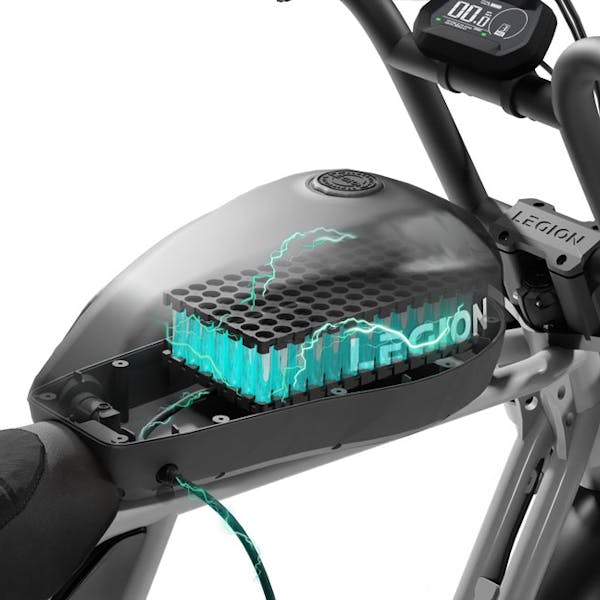 Features
Power UP
The SCR-1200 is powered by a 48V 20ah removeable/lockable battery that can be fully
charged in approximately 5 hours via Level 1 charging through a
standard household outlet. The included 48v 3 Amp Legion Smart Charger operates on 100v-240v AC power outlets.
SCR-1200
e-Cafe Racer Measurements
SS-1200
Tech Specs
Battery
Removeable: Yes
Battery range: 45-75 miles (estimate)
Battery Type: Lithium Ion
Cell Type: LG
Voltage: 48V
Battery capacity: 960wh
Battery weight: 11lbs
Charging Time: 4h
Display
Anti-Theft Password
Off-Road Mode/Password - *Must request from Legion.
Speed Limit
USB Charge Port
Odometer, Speed, Battery Life, plus many more.
Turn signal indicator
Headlight Indicator with Brights feature
Motor
750 - 1200w (peak) geared rear hub motor
2-Piece hub design
Inclination: 35+ degrees
Motor Ingress: IP67
Maximum speed: 20, 28 mph
Frequently asked Questions
Subscribe to our Newsletter
Get email updates on shopping dates, new accessories, & more!
e-Cafe Racer
SCR-1200 Mono-Shock Electric Motorbike