Click the image to zoom
X-Quad

XQ-3000 4 x 2 x 4 Electric Board

$undefined

Introducing the X-Quad, a revolutionary Lean-To-Steer, 4-wheel electric scooter designed for ultimate performance and safety. With its dual rear motors, 4-wheel braking system and 4-wheel independent suspension, the X-Quad offers unrivaled stability, agility, and control, making it the perfect choice for both urban riding and off-road adventures.
36 Month Warranty

30 Day Returns
*Est. Shipping December 2023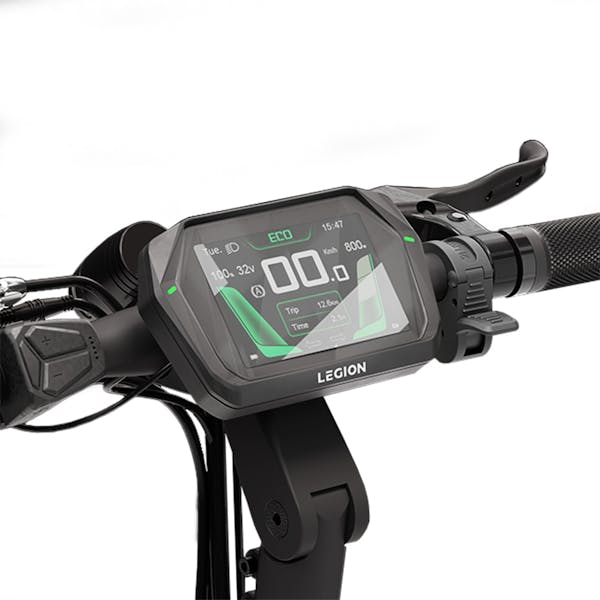 Intelligent LCD Display
Experience the cutting-edge X-Quad with its advanced LCD display offering a range of features to enhance your ride. Choose from 4 ride modes including Eco for extended battery life, Sport for exhilarating power, and even a specialized Golf mode. Enjoy added security with theft protection and parameter lock passwords, while the auto-braking feature provides additional safety. With a built-in headlight, tail light, brake light, and USB charge port, along with adjustable backlight and real-time information such as battery percentage, odometer, and speed, the X-Quad's weather-resistant and durable IP65 waterproof LCD display is engineered to withstand the elements and elevate your riding experience.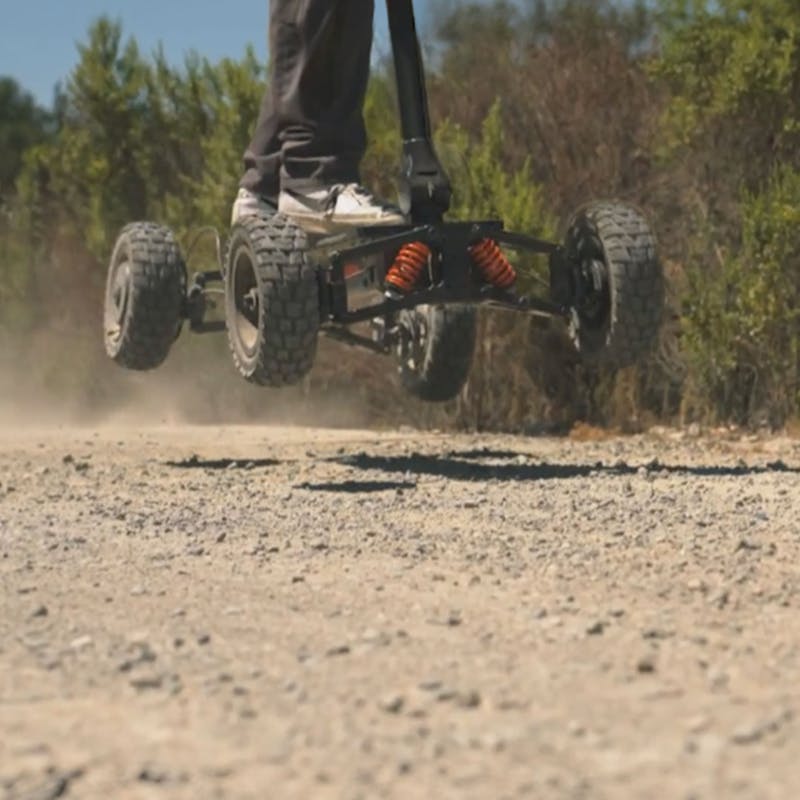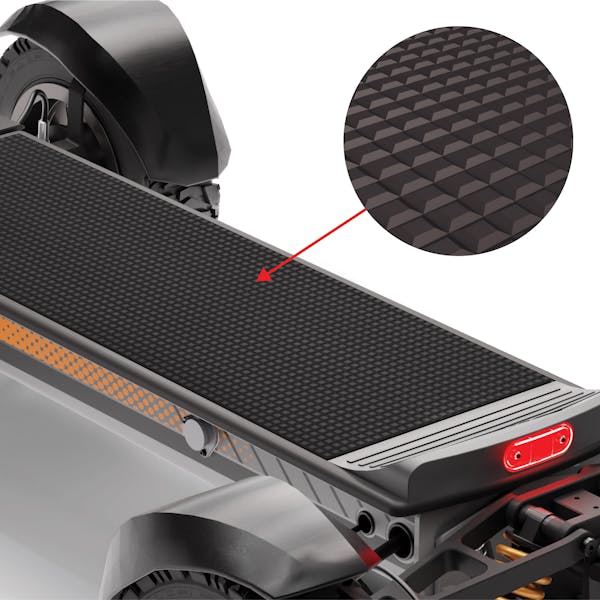 Discover the ultimate rubber grip pad engineered exclusively for the X-Quad, combining unbeatable durability, exceptional traction, and superior grip. This high-performance pad allows riders to confidently navigate various terrains with ease. Plus, its easy-to-clean design ensures effortless maintenance for miles and miles of worry free riding.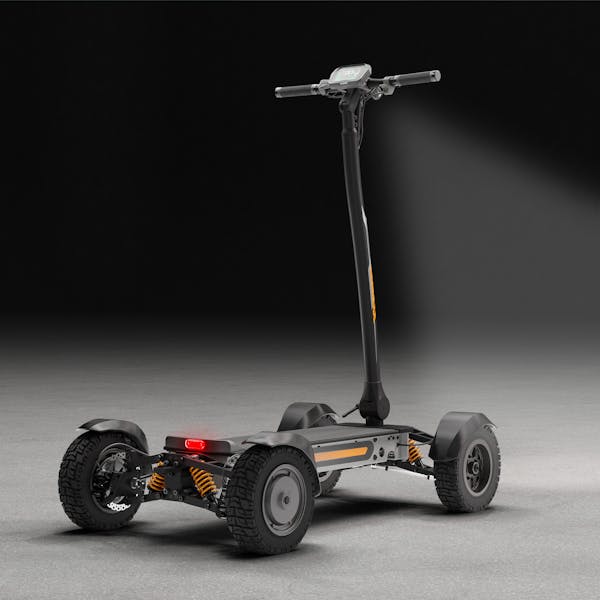 The X-Quad features front and rear lighting elements that enhance safety and visibility. They include a front headlight for clear vision as well as a taillight and brake light integrated into the rear foot pad on the deck. With this comprehensive lighting system, the X-Quad ensures a secure riding experience, day or night.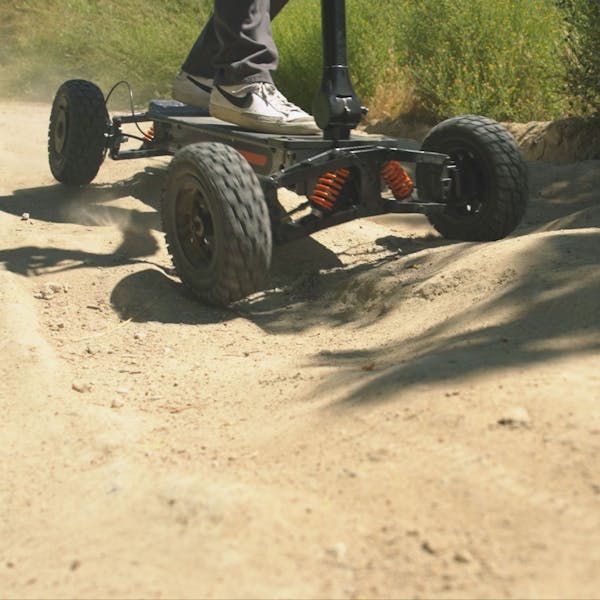 The X-Quad is a versatile powerhouse designed to conquer both on-road and off-road terrains with ease. Equipped with 4-wheel independent suspension, 4-wheel braking, dual rear motors and all-terrain tires, the X-Quad delivers unparalleled stability, control, and traction, ensuring an exhilarating and smooth ride regardless of the environment.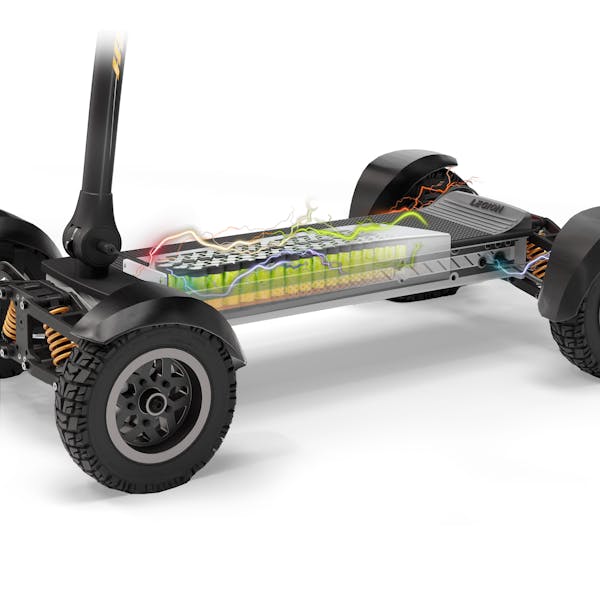 The X-Quad 3000 utilizes an advanced 60V 30Ah battery pack (1800Wh) equipped with top-of-the-line LG and Samsung 21700 Lithium Ion cells. Recharging is effortless with a standard household wall outlet, and it offers an impressive 50+ mile range for extended cruising distances.
Size Guide
One Size Fits All
Slide the Scale to see your Height
Since steering the X-Quad is achieved by
leaning, riders from 48" to 80" can easily ride
with complete comfort and control.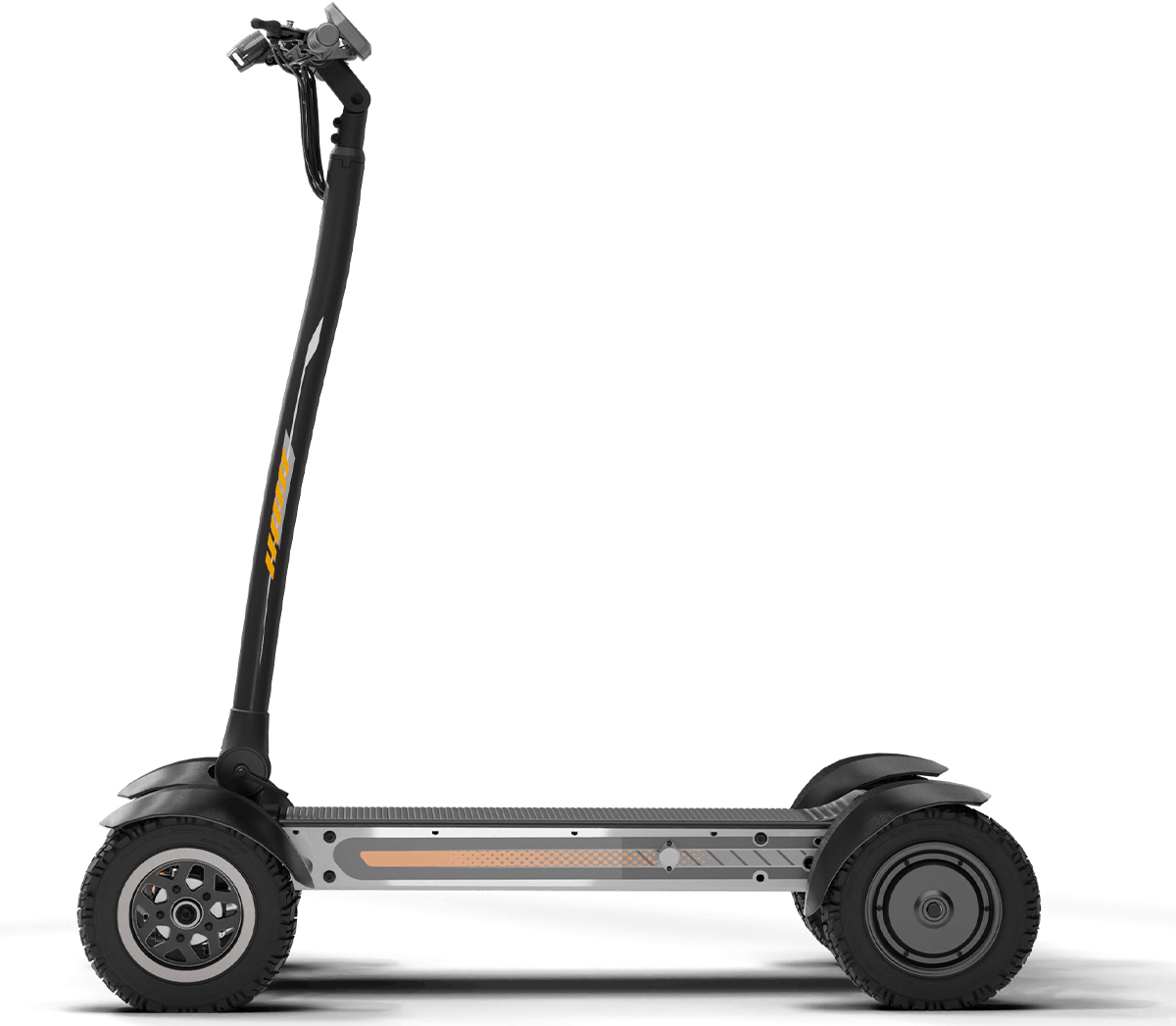 4.0

'
4.5

'
5.0

'
5.5

'
6.0

'
6.5

'
XQ-3000
X-Quad Electric Board
XQ-3000 4 x 2 x 4 Electric Board
Tech Specs
Battery
Removeable: Yes
Battery range: 50+ miles (estimate)
Battery Type: Lithium Ion
Cell Type: LG and Samsung
Voltage: 60V
Battery capacity: 1800wh
Battery weight: 21lbs
Charging Time: 8h

Display
Anti-Theft Password
Parameter Lock Password (for fleet operators)
Speed Limit
Auto-Braking
USB Charge Port
Odometer, Speed, Battery Life, plus many more.
Motors
Dual 1500w brushless, gearless, rear hub motors
2-Piece hub design
Inclination: 35+ degrees
Motor Ingress: IP67
Maximum speed: 27 mph
FREQUENTLY ASKED QUESTIONS
Subscribe to our Newsletter
Get email updates on shopping dates, new accessories, & more!
NOW AVAILABLE FOR PRE-ORDER
X-QUAD
XQ-3000 4 x 2 x 4 Electric Board